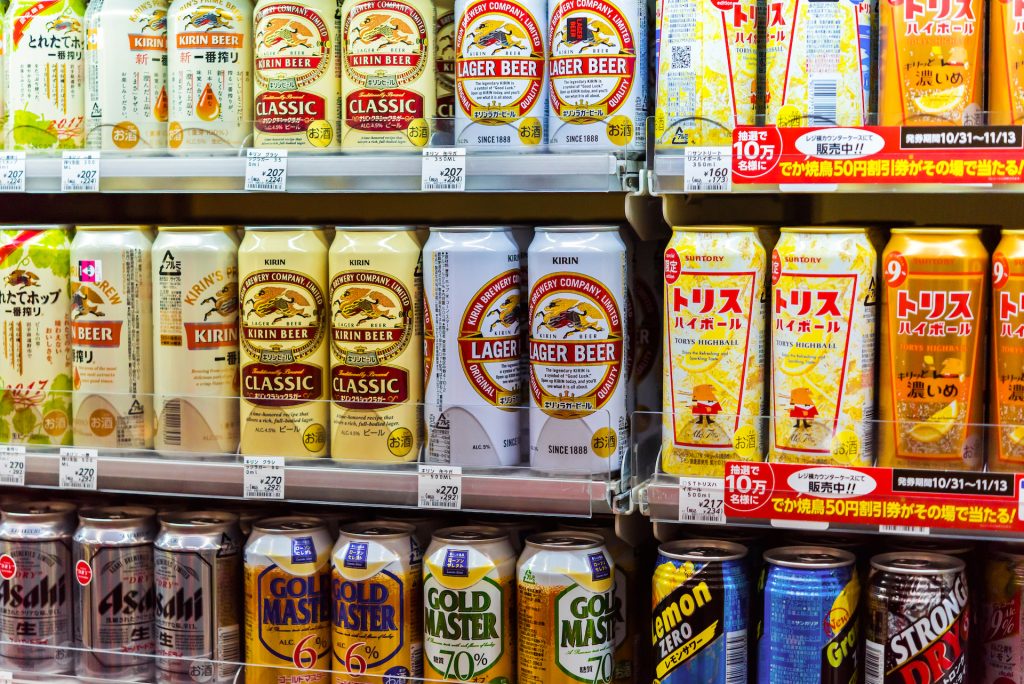 The growing sobriety of Japan's young people is hitting the amount of revenue flowing into state coffers and has inspired the national tax agency to run a competition for ideas to encourage more drinking.
Tax raised from alcohol sales accounted for 5 per cent of total government revenue in 1980, dropping to 3 per cent by 2011 and less than 2 per cent by 2020.
While alcohol taxes still raised US$80 billion in 2020, Japan's national debt to GDP ratio, at about 240 per cent, is worse than any country in the world except Zimbabwe's. The government can ill-afford to lose more tax revenue.
Average alcohol consumption fell from 100 litres per capita in 1995 to 75 litres in 2020, much of that drop caused by drinking falling out of favour with a younger generation. Whereas junior employees were once expected to routinely accompany their seniors and bosses on boozy nights out after work, these days many young salarymen and women refuse to participate in such revelry or are completely teetotal. The pandemic has exacerbated the situation, as many Japanese fell out of the habit of going for drinks with friends. The tax agency campaign is looking for ideas to revitalise drinking culture, including those who choose to consume at home.
With its first round running until September 9, the Sake Viva! campaign is looking for ideas, which could include the promotion of imbibing using artificial intelligence and the metaverse. According to the campaign website: "The aim of this project is to appeal to the younger generation regarding the development and promotion of Japanese alcoholic beverages by having young people themselves propose business ideas, and to revitalise the industry by promoting great plans."
Selected entries will progress to a final stage and an award ceremony for winners will be held in Tokyo on November 10. The winning ideas will be used by the tax agency for commercial campaigns.
Reactions to the campaign from the public have been mixed, with many online comments questioning the wisdom of a government encouraging its citizens to drink more alcohol.
Japan's health ministry issued a statement saying it hoped the campaign would recommend that people drink alcohol in moderation.
Overseas applicants can enter the contest, as long as they submit materials and make presentations in Japanese.
Alcoholic beverage market in Japan
The market size of alcoholic beverage in Japan is about US$35 billion, according to the report of Japan's National Tax Administration Agency. However, the market is shrinking little by little every year. The consumption amount of alcoholic drink also fell to about half of that in its prime. The number of people who drink in a bar or restaurant was decreasing during the years. On the other hand, the number of people who drink in a house was increasing.
According to consumption amount of types of alcoholic beverages, a beer is the most popular alcoholic beverage in Japan. However, the ratio of beer is decreasing every year. The ratio of liqueur and wine are increasing instead of beer. It is said many young Japanese people don't like the bitter taste of beer.
There are three types of beers, which consist of normal beer, low-malt beer and the third beer in Japan. The amount of liquor tax of Japan increases by the amount of malt, so beer companies make low-malt beer called Happoshu to keep down the tax and sell it cheaper than normal beer. As a result, Japanese government raised liquor tax for low-malt beer because of fearing decreasing amount of liquor tax.
Beer companies made the third beer in response to rising liquor tax. The third beer has a taste similar to beer without malt. It belongs to the category of a liqueur in Japanese tax law because if does not have a malt, so the third beer is sold at a lower price than low-malt beer. It contributes to increasing liqueur consumption. Thus, the third beer has become the cheapest beer.
It seems beer companies in Japan can find ways around taxation to offer the cheapest alcoholic beverage to Japanese consumers.
We should note that tax on alcoholic drinks are steep in most countries as a way of raising tax receipts for governments.
Good luck to Japanese government in your increased beer consumption campaigns!