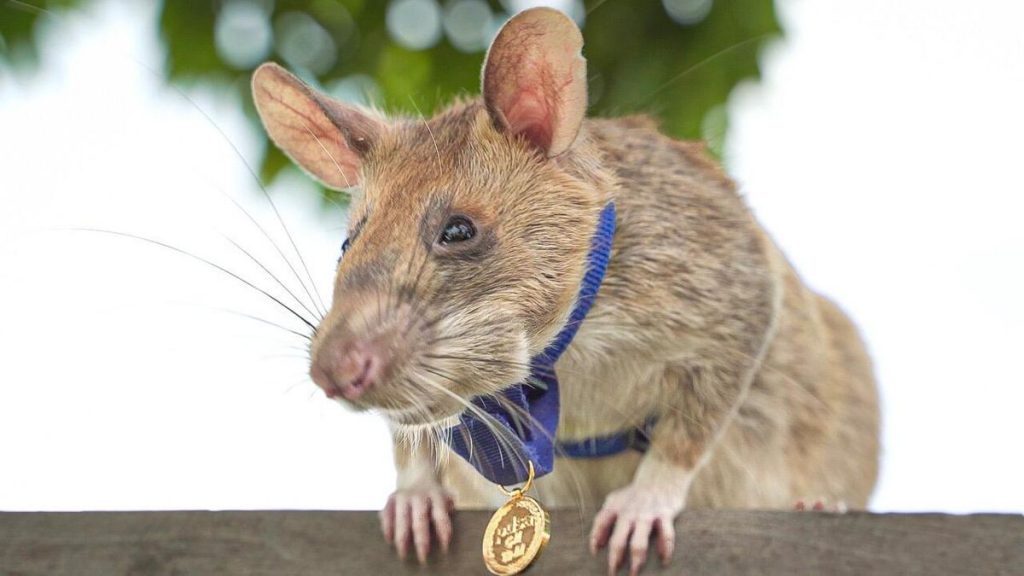 Occasionally small rats entered our kitchen to sniff out for leftover foods. If they are not lucky, they are caught by my cats, Salina Boy or Charlie. Instead of being considered a pest, a species of rat, the African giant pouched rat, is being trained to detect a disease that is devastating livestock and threatening the livelihoods of farmers in the world's poorest countries, as quoted by the Times of London on January 29th, 2021.
Brucellosis is a highly contagious bacterial infection that causes infertility and low milk yields in cows, sheep, goats and pigs. Detection is hard and expensive.
Glasgow University is working with researchers at Sokoine University in Tanzania on using sniffer rats to tackle the problem. The African giant pouched rats, which can grow to 91 cm in length, have already been trained to detect landmines and tuberculosis.
Dan Haydon, director of the institute of biodiversity, animal health and comparative medicine at Glasgow University, said that the idea developed after he discovered how sniffer dogs were being used to detect brucellosis in Yellowstone National Park, in the United States, where there is a brucella problem with elk, bison and cattle. "Professor Rudovick Kazwala, who is lead researcher at Sokoine, said, 'Aha, well, we already have this facility where rats are being specially trained to sniff landmines and tuberculosis'", Professor Haydon said."So, we figured if they can smell landmines and smell TB then surely we can get them to smell brucellosis. It turns out you can."
The scientists received a grant to conduct the research through the British Foreign, Commonwealth and Development Office. Testing has delivered encouraging results so far.
The African giant pouched rat is used rather than the standard lab rat because they are easier to source in sub-Saharan Africa and live longer.
It takes nine months and costs about £5,000 to train a rat, which can then speed through 100 samples in 20 minutes.
Magawa, the most famous African pouched rat
Magawa has been awarded a prestigious gold medal for his work deteting land mine, according to the website, www.bbc.com on September 24th, 2020. Magawa has sniffed out 39 landmines and 28 unexploded munitions in his career. The UK veterinary charity PDSA has presented him with its Gold Medal for "life -saving devotion to duty, in the location and clearance of deadly landmines in Cambodia".
PDSA's Gold Medal is inscribed with the words "For animal gallantry or devotion to duty". Of the 30 animals recipients of the award, Magawa is the first rat. The seven-year-old Magawa was trained by the Belgium-registered charity Apopo (www.apopo.org), which is based in Tanzania and has been raising the animals,-known as HeroRats-to detect landmines and tuberculosis since 1990s. The animals are certified after a year of training.
According to Apopo, Magawa was born and raised in Tanzania-weighs 1.2 kg and is 70 cm long. While that is far larger than many other socies, Magawa is still small enough and light enough that he does not trigger mines if he walks over them.
The rats are trained to detect a chemical compound within the explosives, meaning they ignore scrap metal and can search for mines more quickly. Once they find an explosive, they scratch the top to alert their human co-workers.
Magawa is capable of searching a field the size of a tennis court in just 20 minutes-something Apopo says would take a person with a metal detector between one and four days. Magawa works for just an hour a day in the mornings and is nearing retirement age, but PDSA director, Jan McLoughlin, said his work with Apopo was "truly unique and outstanding". "Magawa's work directly saves and changes the lives of men, women and children who are impacted by these landmines, says PDSA. "Every discovery he makes reduces the risk of injury or death for local Cambodians."
The training of African giant pouched rat
African giant pouched rats can live between 6 to 8 years. This long lifespan for a rat makes training a worthwhile investment. They are food motivated and willing to work with just about any handler for a proper reward.
From now on, I will tell my cats not to kill the rats around our house as their species are saving human lives in countries which have the problem of landmines and unexploded munitions.