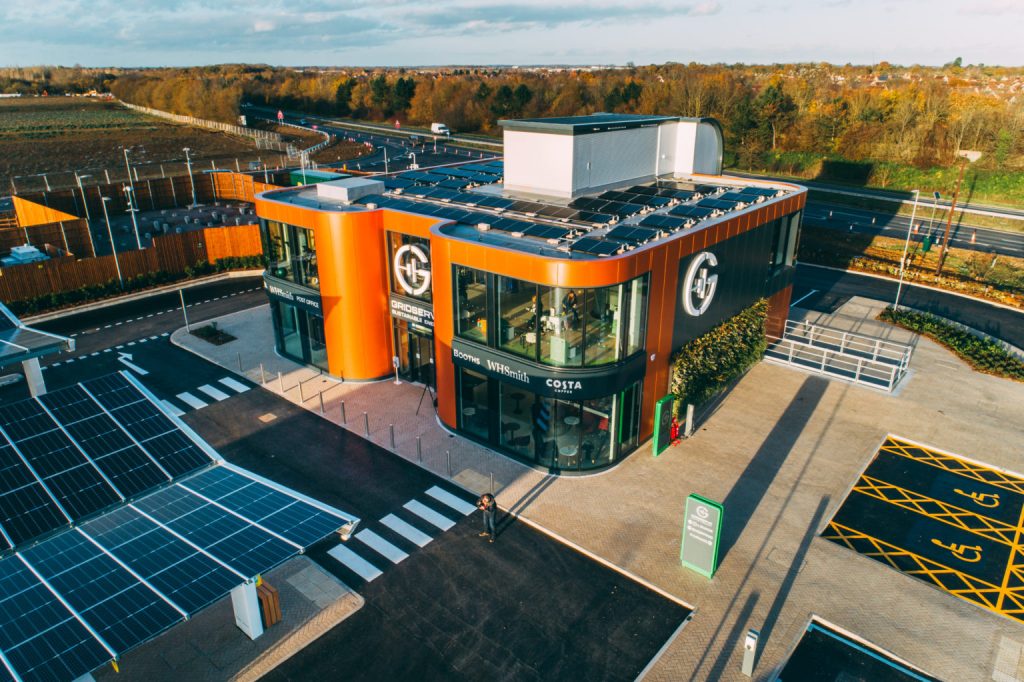 The first bespoke electric car forecourt was opened on December 7th, 2020, by Gridserve at Braintree, Essex, England. The capital of the county is Southend On Sea at which I studied at a local college in the 1970s. Designed by its CEO, Toddington Harper, the forecourt (which is categorically not a service station) is spacious and simple to negotiate both inside and out. There are 36 individual charge points, ranging in output from 7kW to 350 kW, which can all be used simultaneously with no drop in output.
Electricity is generated by solar panels-mounted on the forecourt roof and a array of partners solar farms s-and stored in a 6 mWh (6,000 kWh, or roughly enough for 26,000 miles EV range) on-site battery, which can balance the grid in peak hours, helping to keep charging costs down.
Users just pay just 24p per kWh to charge at the site, making it cheaper than any other "ultra-high-speed" charging provider in England. In term of market competitors, Gridserve's charging facilities essentially sit in class one-for now, at least. Other energy providers operate banks of chargers at busy locations but usually as part of a larger service or fuel station designed for ICE cars.
The forecourt offers super-fast wifi, and stands alongside of a range of retail outlets including WH Smith, and Booths, as well as Costa Coffee, and the Post office. Future forecourts will offer business meeting pods, a children's play centre and a "wellbeing area" with exercise bikes that generate electricity. .
The standard rate of 24p per kWh, which beats the current lowest ultra-high charging rates in England. This mean a typical charge for an average electric vehicle-from 20 per cent charged to 80 per cent-would costs £10.
If the concept of the forecourt is copied in Malaysia, Malaysians will charge their electric vehicles while having "roti canai", a favourite pancake, or "nasi lemak" , a meal of rice with other condiments. The combinations of meals and coffee are many. And no more smell of nauseating gasoline.
As a new chemical engineer, I joined ESSO (now EXXON MOBIL) because the oil industry was the largest industry in the 1980s, and ESSO was the largest company in the world. Today, these oil companies are laggards as compared to the FAANG. Who could predict this in the 1980s when I joined the oil industry.
Visit gridserve.com for more information.