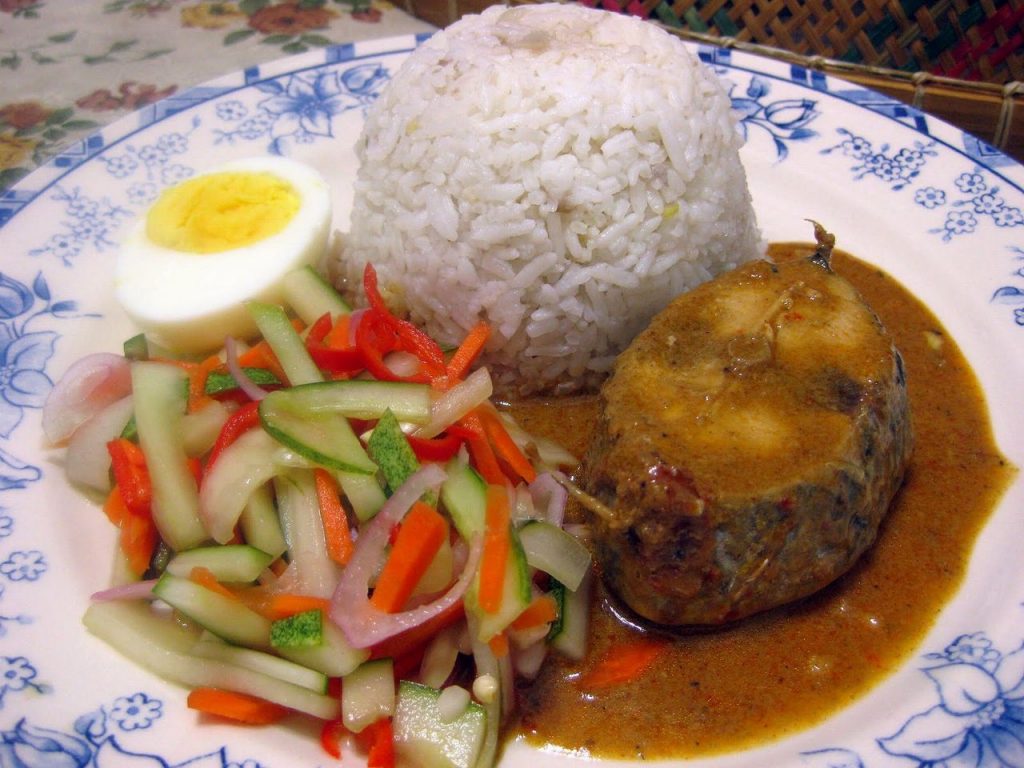 Nasi dagang, "trader's dish" is a dish of rice and curry. Ubiquitous in the east coast of Peninsular Malaysia, it is a popular meal for breakfast as "nasi lemak" is in the west coast. It can even be found in the Southern Thai provinces of Narathiwat, Yala and Pattani. Nasi dagang or "trader's rice" in Malay could have originated from the dish concocted by the early traders for their packed provision while plying their trades at the time, hence the name of the dish that has stuck until today.
An indigenous dish of the region, it makes use of abundant natural resources readily available – rice, herbs and spices from the land and ikan tongkol (tuna fish) from the sea for the curry. Unique to the east coast, nasi dagang has two main versions, Nasi dagang Kelantan and Nasi dagang Terengganu. The Nasi Dagang Kekantan is made from long grain reddish brown rice.The Terengganu version of nasi dagang is a mixture of white fragrant rice and white glutinous rice. Visually, Nasi dagang Kelantan is generally reddish brown while Nasi dagang Terengganu is generally white and glossy. As for its accompanying curry, the Kelantan version uses normal curry powder while nasi dagang Terengganu uses specially concocted herbs and species
About Nasi Dagang Terengganu
In Terengganu, nasi dagang is considered its traditional rice specialty. Simple, delicious, and wholesome are among the common descriptions given to this food. True that it is a very simple dish consisting of just rice, fish curry, pickles and chilly sauce. And yet it can be very gastronomically fulfilling – a complete meal by itself that has most of the nutritional value that matters. Visually appealing to some due to the white glossy color of the rice, it is also a versatile dish for any meal of the day, be it breakfast, lunch or dinner. And it is fitting enough for those special occasions like hari raya, thanksgivings and similar events. It is available from various outlets and settings – posh hotels, restaurants & eating shops, hawkers, kiosks, and even night markets
At its most basic, the nasi dagang Terengganu comprises of a rice dish with a side dish of ikan tongkol (tuna fish) curry and mixed pickles of cucumber, carrots and onions together with chilly sauce. Hard boiled eggs whether separate or put together into the curry with the fish can be an added option. If preferable, the tuna fish can be substituted with mackerel or other types of fish. The dish is prepared by steaming a mixture of fragrant rice and glutinous rice infused with coconut milk over low heat. The result is a white glossy rice dish that is both fragrant and creamy. Preparation of the dish will take 8 hours as the rice need to be soaked overnight (or at leas 8 hours) while the cooking itself will take about 2 hours.
The nasi dagang Terengganu has not been commercialised. Hardly any cafes or restaurants promote this delicacy in Kuala Lumpur lamented a writer in a column of an online news portal recently. That aptly describes the sad truth concerning this delicacy outside its state of origin, Terengganu. It has the potential to expand its market reach, not just confined to Terengganu but there are no takers.
Well, that is about to change as a company owned by the state of Terengganu has ventured into the making of Terengganu traditional foods. And the company has produced a line of frozen foods that includes nasi dagang Terengganu. The frozen foods in packs form are not just for the domestic market but for the overseas markets as well. The company's frozen nasi dagang Terengganu in packets are currently available in several selected T Mart convenient stores and Shell petrol stations in the Klang Valley and other parts of the country.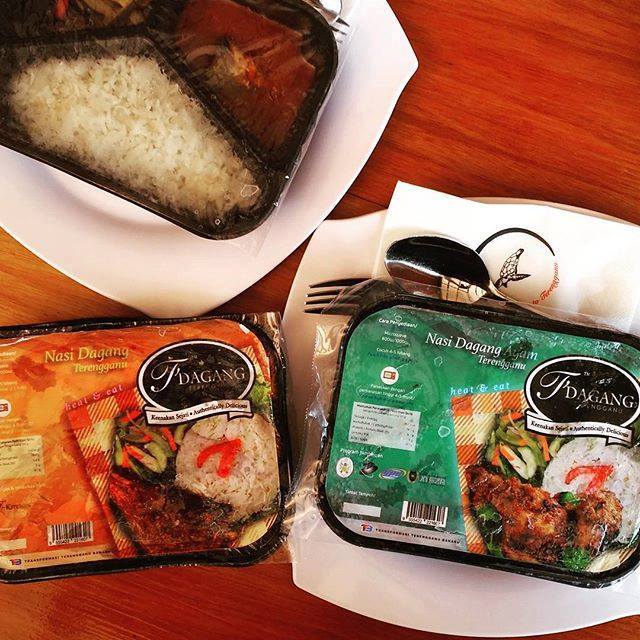 For the overseas markets, a trial shipment of 20,000 packs of nasi dagang Terengganu and keropok lekor Terengganu (fish sausage) made recently to the British capital was reported to be well received. The news report also said that the foods are marketed by a UK fast food chain Chicken Cottage, which is also owned by the state of Terengganu. The frozen packs of keropok lekor and nasi dagang Terengganu are available in selected supermarkets selling frozen Asian foods.
Now that is certainly good news for all the diehard fans of nasi dagang Terengganu outside the state. Now, one can easily get this delicacy when that cravings start to act.
However, the frozen nasi dagang packs do not have the real taste of freshly prepared version. You have to be in Terengganu.
About the guest contributor:
Mr Ahmad Rozi Daud is a stingless bee farmer in Kuala Terenganu, Malaysia. He resides near Rantau Abang, Terengganu . He also provides training for those who are interested to be a stingless beekeeper or apiarist. Please contact us at 6016 3220 952 for assessment of suitability of your location for stingless bee farming.